To help leaders to REACH their potential the REACH 360 blends simplicity and innovation for a best practice approach to multi-rater feedback.
It reinforces positive leadership behaviors, while revealing hidden strengths and potential blind spots.
Its unique approach, integrating both personality style-based and skill-based measures, encourages meaningful self-reflection and targeted professional development.
Most raters will complete the REACH 360 in 3 minutes, with positively-oriented measures that encourage constructive feedback.
REACH 360 provides a positive, aspirational report that is ideally suited for ongoing coaching and development conversations.
As part of the REACH Ecosystem, REACH 360 is supported by specific training, development and coaching resources designed to promote measurable growth.

The Innovative REACH 360 Reduces Survey Fatigue
Few people look forward to completing an arduous survey – whether for themselves or for their leaders. Many 360-degree feedback surveys are lengthy and time-consuming, leaving the rater fatigued and frustrated (especially if participating in more than one survey process).
REACH 360 alleviates such concern through its unified design. When a leader completes their REACH Profile, they've already answered their portion of REACH 360. All that's left to do is to send a link for the raters (most of whom can complete their portion of REACH 360 in about 5 minutes).
The Only Traits and Skills Based 360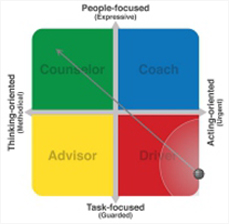 Traits Based Awareness and Growth
The style-based aspects of REACH 360 promote contextual self-awareness.
Participants learn how their preferred style may be perceived by others in the workplace context.
Participants recognise the value of adapting lesser preferred styles to grow their influence and enhance collaboration.
Skills Based Feedback & Development
Discover Strengths, Opportunities and Blindspots

HIGH LEVEL SUMMARIES

MID LEVEL INFORMATION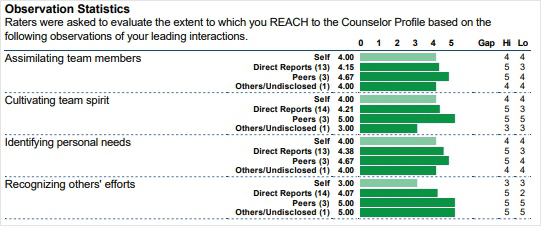 GRANULAR SCORES + COMMENTS
REACH Application with REACH Profiles and REACH 360
Direct from the 2019 REACH learning event (HR GROW), Professor Doug Waldo, SPHR, SHRM-SCP, CFLDP, Discoverer of Reach Quotient explains REACH Application with REACH Profiles and REACH 360.
ASPIRATIONAL FOR ALL PERSONALITY TYPES
By including style-based reporting with skill-based measures – providing both summary information and granular detail within a colourful report – REACH 360 intentionally offers results that appeal to four primary personality styles.
REACH 360's Price Per Use: €295 - See Full Price List
Ongoing Users Benefit from Subscription Pricing

The REACH 360 Report is a simple visual report that is easy to read and digest.
It provides high level summaries to detailed comments and actionable growth plans using the resources included in the REACH Ecosystem.
The REACH Quotient 360 Growth Report allows you to track growth of leaders.
It shows the change in 360 feedback over time based on REACH 360's and provides insights to answer,
"Have we Grown?"